Mobile gamers are madly in love with the infinite runner known as Subway Surfers. Running all over the world with Jake and his friends seems to be an awesome past time for some folks. If that game constantly keeps you hooked onto its insanely fun gameplay, then we have a good feeling you'll get a kick out of these games. We will recommend you 10 infinite runner games. They are what you need to play if you're in love Subway Surfers.
1.Temple Run: Oz
You've probably played and mastered the last tow games in this series. As for Temple Run: Oz, the stages you run around get changed up a bit. The rebooted film lets you run up and down the Yellow Brick Road with China Girl as you dodge those evil baboons.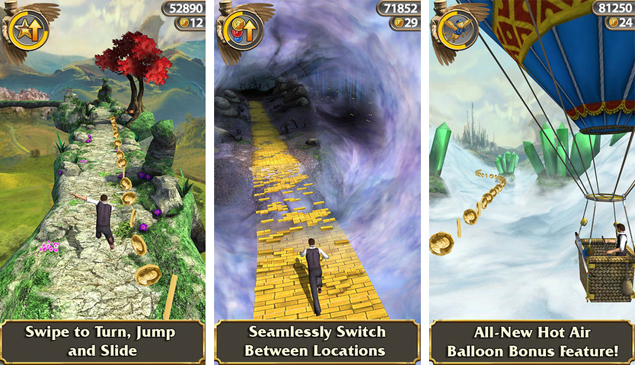 2. Despicable Me
Experience the brand-new Despicable Me: Minion Rush! Gru's loyal, yellow, mischievous Minions are ready for their tastiest challenge yet: Collecting exotic fruits to make yummy jelly! Jump, roll, dodge and scramble against others in fun, fast-paced missions.


3.Whale Trail
Willow The Whale doesn't run…OR EVEN SWIM! He actually…FLY'S? Yep! Whale Trail puts Willow into the air as you collect "Blubbles" and run some loop the loop tricks. The super trippy visuals will pull you in and never let go.